Gambit Zanatos

Nikola Graf discovers Gambit Zanatos planned for her to attack him.
Information
Affiliation
East Europan Imperial Alliance
Weapon Drop
ZM MP 5(e)
Voice Acting
Japanese
Not voiced
English
Not voiced
Gambit Zanatos (突撃王タナトス, Totsugeki-ō tanatosu?) is a Shocktrooper Elite Ace found in Valkyria Chronicles 4. He is hidden away behind a destroyable frozen tree in the battle mission The Breakthrough.
Gameplay
Even getting to Gambit Zanatos is quite a project since he is positioned past the central Imperial camp: any units making their way to him will have to deal with the camp itself, an Assault Tank hiding in a dead-end group of trees, a pair of Snipers, a Lancer, and finally two Grenadiers, one of whom can only really be accessed from the right-hand side of the map.
He is hidden in an area accessible by destroying a false frozen tree, but is facing in the direction of the tree and so there is no option to ambush him this way. He can either be killed using a Grenadier on the right side of the map, or alternatively "turned" by having one unit run past him, then have another shoot him in the back. If doing this, it is best to use a unit with Resist Crossfire or a similar Potential, or use Defense Boost on the soldier who will be running past him.
Getting by him also allows access to the second Grenadier in the area, so it is a good idea to shoot this Grenadier after turning Zanatos around.
Stats and equipment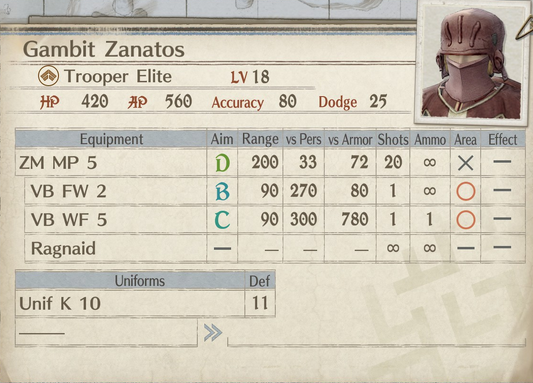 Has 30 total defense.
Location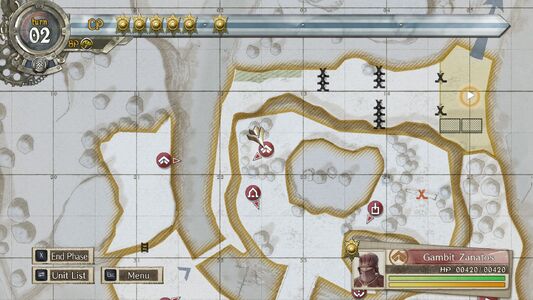 Reward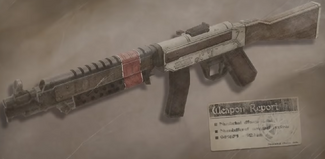 Defeating him rewards the player with a ZM MP 5(e), a high-level Imperial Machine Gun. It is just as accurate as the ZM MP 5 he uses himself, but with boosted vs Pers power and shorter range.
Like almost all captured Imperial Machine Guns, it trades range and accuracy for greater vs Pers hitting power.
The Shocktrooper Paragon Ace Tavyse the Beast in Hard Skirmish 1 shares Gambit Zanatos' weapon drop.
| Equipment | Aim | Range | vs Pers | vs Armor | Shots | Ammo | Area | Effect |
| --- | --- | --- | --- | --- | --- | --- | --- | --- |
| ZM MP 5(e) | D | 150 | 45 | 58 | 20 | ∞ | X | - |
Trivia
His Japanese name is more like "Assault King Thanatos."
His English name is a reference to the "Xanatos Gambit," a label used by the site TVTropes.org for a plan where all conceivable outcomes benefit the planner, even those that appear to involve their defeat. The name comes from the villain of the cartoon series Gargoyles, who was fond of such plans.
The weapon model for the ZM MP 5(e) is also used for the ZM MP 6(e), ZM MP 7(e) and ZM MP 8(e).
Community content is available under
CC-BY-SA
unless otherwise noted.