Field Agent Mors (モーリス特務兵, Mōrisu tokumu-hei?) is a Scout Ace found in Valkyria Chronicles 4. He appears in the Squad Story "Like Old Times," during the battle mission Blackwell Down.
Gameplay
Field Agent Mors is located at the bottom of the main open field area of the map, and is visible as soon as the mission starts. Since this seems intended to be one of the first Squad Stories the player will see, he is a very low-level Ace, being at the same level as Thane the Cadet and Zuko the Prophet, though he has a bit more health and deals significantly more damage.
At low levels, attacking him by going down the middle of the map is more or less suicidal as there is a Medium Imperial Tank with Mors right inside the coverage of its rear-facing machine gun. Moreover, he has a dodge of 40 and faces that approach, so he is quite likely to evade a frontal attack. The ideal strategy is to flank around to the narrow path along the left side of the map: if the player is lucky, Mors will stay in place, allowing for him to be shot from behind on the way to the goal.
More likely, though, Mors will make his way to the top entrance of the flank path, attempting to attack Curtis, Eileen and Laurent from behind. If this happens, the player will have to "turn" him by having one unit run past him so another can shoot him in the back. It is best to use Laurent McCloud or Curtis Blackwell for this, since Eileen Blackwell, being an Engineer, has the lowest hitpoints of the group.
At higher levels, if Curtis is a Corporal the player can make him a Leader and use Direct Command to drag Eileen and Laurent almost to the end of the map. Laurent will at that point probably be more of a tank than the tanks in this mission are and can easily deal with them, while Curtis and Eileen work together to turn Mors around as above.
Stats and equipment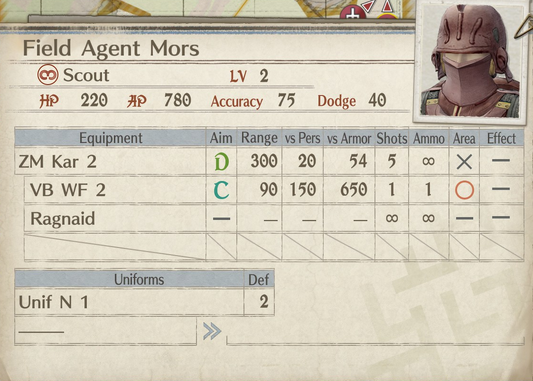 Has 10 total defense.
Location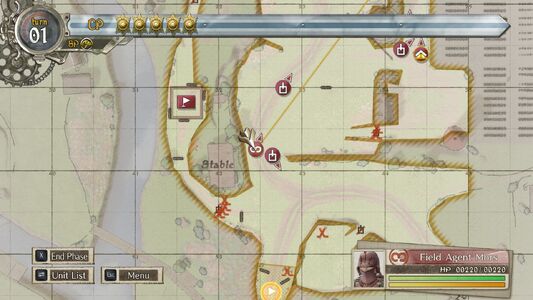 Reward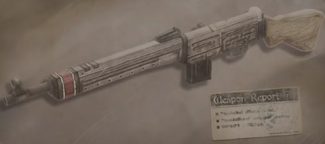 Defeating him rewards the player with a ZM Kar 2(e), a low-level Imperial Rifle shorter-ranged and less accurate but vastly more powerful than the ZM Kar 2 he uses himself.
Like all captured Imperial rifles, it trades range and accuracy for greater vs Pers hitting power.
The Scout Ace Inspector Muratus in Normal Skirmish 4 shares Mors' weapon drop, despite that he is standing in for Hawkeye Iris.
| Equipment | Aim | Range | vs Pers | vs Armor | Shots | Ammo | Area | Effect |
| --- | --- | --- | --- | --- | --- | --- | --- | --- |
| ZM Kar 2(e) | E+ | 180 | 40 | 52 | 5 | ∞ | X | - |
Community content is available under
CC-BY-SA
unless otherwise noted.