Exercise vs Class C


---

物資回収演習 対C組

?

Grade

★

Terrain
Dirt, Grass
Area Effect
None
Number of units
6
CP
Start 8, 8 per turn
Turns for S rank
4
Objectives
5 boxes retrieved
Failure conditions
Allied base camp captured
20 turns pass
Morale 0
All infantry defeated
Special conditions
None
Enemy vehicles
Medium Tank C x 7
Enemy officers
5 total:
Heavy Scout Leader
Commando Leader
Fencer Leader
Medium Tank C
Enemy ace(s)
Masse the Moth
Ace Location
Area 1 [E3]
Mission Briefing
A goods retrieval exercise will be carried out versus Class C.
Retrieve 5 crates scattered across the areas.
In order to replicate an actual battle as closely as possible, Class C has been granted the use of multiple tanks.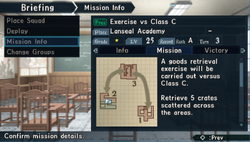 Strategy
Rewards
Base Reward
Enemy Ace Reward
Credits
Materials
Special Units Bonus
Captured All Base Camps Bonus
Notes/Trivia
Community content is available under
CC-BY-SA
unless otherwise noted.