Ette of the Icefield

The Cactus rather ill-advisedly advances on Ette of the Icefield.
Information
Affiliation
East Europan Imperial Alliance
Weapon Drop
Firing Calculator (Glory)
Voice Acting
Japanese
Not voiced
English
Not voiced
Ette of the Icefield (氷海のイート, Hyōkai no īto?) is an Assault Tank Ace found in Valkyria Chronicles 4. She appears as part of the taskforce attempting to block Minerva Victor, the Cactus and the Glory from extracting Squad E during the combat mission Maritime Infiltration.
Gameplay
Ette is not deployed at the beginning of the mission and only appears when the two Fortress Cannons are destroyed and the map extended on the right-hand side. When this occurs, her cannon-armed Assault Tank appears along with a small force of infantry and another Assault Tank. Her tank has level 2 armament, but the Body Def of a level 4 Assault Tank and more HP than any standard model.
Defeating her is a fairly simple matter of trundling over with Glory and shooting her radiator. The only real challenge is remembering to bring Glory's anti-armour turret for the mission: if the player has forgotten to do so, it will be necessary to deploy a Lancer at the objective base camp and use the Cactus or have Minerva Victor use Direct Command to quickly get them into firing position.
Stats and equipment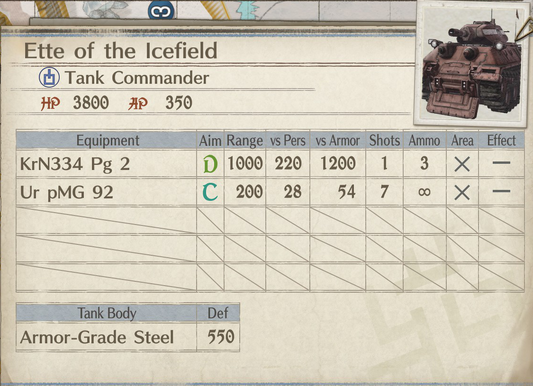 Location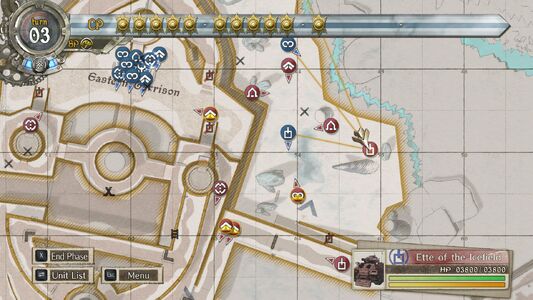 Reward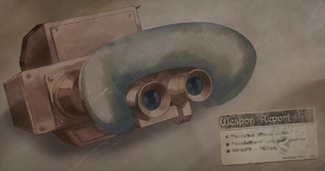 Defeating her rewards the player with the Tank Upgrade "Firing Calculator" for the Glory, a nicely compact 1x2 Part that grants +10 accuracy. As Glory has few parts that improve its dismal base accuracy, this is a worthy reward.
| Equipment | Part size | Effect |
| --- | --- | --- |
| Firing Calculator (Glory) | 1x2 | Accuracy +10 |
Trivia
"Ette" is a female name in a series of languages, being a variant of the Nordic name Etta or a short form of Marietta, Mairead or Margaret.
Community content is available under
CC-BY-SA
unless otherwise noted.