Award
User who have significant contribution to this project will be awarded with:
The Wings of Solidarity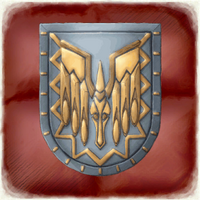 This medal is awarded to those who contribute to Character-related projects and/or articles.
Guidelines
Though, there is still no news of a localization for Valkyria Chronicles 3 yet, there are some translation out there we can use. The purpose of project is to provide information for those who are playing the Japanese version of the game.
The general structure of a VC3 character page is:
Character Infobox: Read Template:Infobox character#Explanation carefully to know how to fill in information for this.
Profile: character profiles should be written in paragraphs.
Max Stats+ self-explanatory.
Personal Potentials:
List of a character personal potentials. The potentials' names should be bold i.e. Darcsen Bond.
How and when potentials can be unlocked and what replaces what should be specified. The name of the mission where that potential can be unlocked should be italic, i.e. Mission Name.
Battle Potentials: Since every characters in VC3 share the same set of battle potentials, the list of battle potentials should be listed in Potentials in Valkyria Chronicles 3 instead.
Quotes.
Notes and/or Trivia.
Contributors
Various unregistered contributors.
Community content is available under
CC-BY-SA
unless otherwise noted.