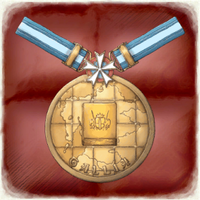 Project Goal
This project attempts to improve the quality of the profiles of Valkyria Chronicles 2 characters in form of well-written paragraph and to completely remove the in-game descriptions.
Award
User who have completed 5 character profile, following the guidelines below will be awarded with Gallian Front Commemorative medal.
Guidelines
The character profile should be at least 2-paragraph long. It must be well-written, detailed, and unbiased (no personal opinion, no speculation).
It is recommended that the names of the story events or cutscenes be citated; and they must be styled in italic. It is no longer required to cite the name of the events.
The structure of the profile is as follow:
The information about character biography as well as personality and/or characteristic should be covered in the first paragraph.
In the following paragraphs, editors can write about the events during the game that involve the character, especially the memory events.
And finally, the ending of that character.
Progress
Contributors please write your name on the article that you are working on or planning to do so.
Community content is available under
CC-BY-SA
unless otherwise noted.