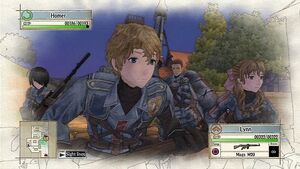 The Edy detatchment
is a loose-knit group of
Squad 7
members, led by
Edy Nelson
who by chance and misadventure find themselves separated from the main body of Gallian troops.
They star in two of the four sets of Valkyria Chronicles DLC.
Members
Scouts
Lancers
Shocktroopers
Snipers
Engineers
Apperance
The Edy Detatchment appear in the following games:
Valkyria Chronicles
Valkyria Chronicles 2
Bonus squad unlocked with password CR6BG1A9LYQKB6WJ
Valkyria Chronicles 3
Trivia
All members of the Edy Detachment appear as members of Squad 7 in the Valkyria Chronicles Anime with the exception of Lynn, who has a cameo appearence late in the series.
Community content is available under
CC-BY-SA
unless otherwise noted.