Duke Allibert

Raz finds himself in the presence of Duke Allibert.
Information
Affiliation
East Europan Imperial Alliance
Weapon Drop
VB PL 1B(e)
Voice Acting
Japanese
Not voiced
English
Not voiced
Duke Allibert (アライベルト公, Araiberuto kō?) is a Lancer Elite Ace found in Valkyria Chronicles 4. He is found guarding a shortcut through the sewers in the battle mission Warehouse Supply Raid.
Gameplay
Allibert is concealed in the bottom-right corner of the map as viewed in Command Mode, standing in front of the mark indicating a shortcut through the sewers. He faces towards the nearby base flag.
Being a Lancer, Allibert is extremely easy to deal with since he will not turn to follow an enemy soldier even if he has spotted them. It is thus a simple matter to get behind him and negate his ridiculous dodge rating of 70.
Stats and equipment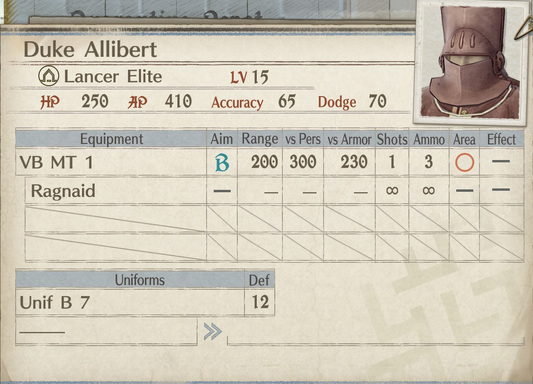 Has 25 total defense.
Location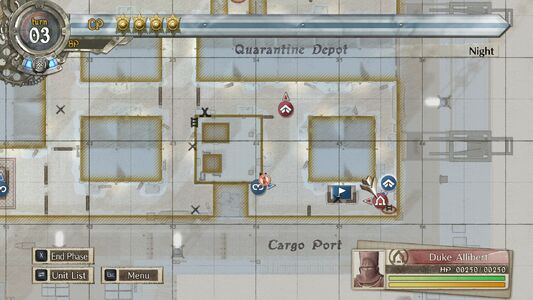 Reward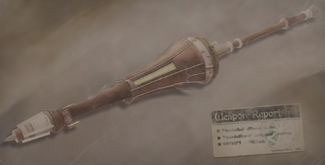 Defeating him rewards the player with a VB PL 1B(e), a special Anti-infantry mortar-lance with a status effect: the icon is AP down, but the effect is called AP Use Up, and what it actually does is increase the rate at which Action Points drain while a unit is moving. Oddly, this is not even the same type of weapon he is equipped with.
Given there is no Federation equivalent of the Ace drop status effect mortar-lances, it is difficult to directly compare, but it is shorter-ranged than the Lancaar-SH, while having more power than Lancaar-SH variants up to M11.
| Equipment | Aim | Range | vs Pers | vs Armor | Shots | Ammo | Area | Effect |
| --- | --- | --- | --- | --- | --- | --- | --- | --- |
| VB PL 1B(e) | B | 150 | 380 | 240 | 1 | 3 | O | |
Community content is available under
CC-BY-SA
unless otherwise noted.