Comrade Harasky

Odin prepares to show Comrade Harasky how foolish it is to stand against a god of battle.
Information
Affiliation
East Europan Imperial Alliance
Weapon Drop
ZM MP 3(e)
Voice Acting
Japanese
Not voiced
English
Not voiced
Comrade Harasky (同志ハラスキー, Dōshi harasukī?) is a Shocktrooper Ace found in Valkyria Chronicles 4. He appears in the Squad Story "Unfortunate Souls," in the battle mission Company of Zeroes.
Gameplay
Comrade Harasky is practically impossible to miss since he is straight in front after going around the first bend in the map. He is located exactly where the last Grenadier on the right-hand side of the map was in Chapter 3: Rangers in the Storm - Part 1. He starts out facing the bottom of the map as viewed in Command Mode.
This is another mission Squad Story which assumes the player will unlock it early on, and so Harasky is only level 7.
Despite him facing away from the path, there is no easy way to get a surprise attack on him since there is only a small space between his back and the level geometry: moving into this gap counts as close enough proximity that he will turn around.
His mediocre dodge rating does mean that simply attacking him is fairly viable, but if the player does not wish to leave things to chance they can have Jimmy Frank or Lily Ashley move past him to turn him so that Odin can strike. If this mission is down with Scouts past level 11, Odin can target him with a rifle grenade from the grassy area directly below the team's starting point if one of the other two has spotted him.
Stats and equipment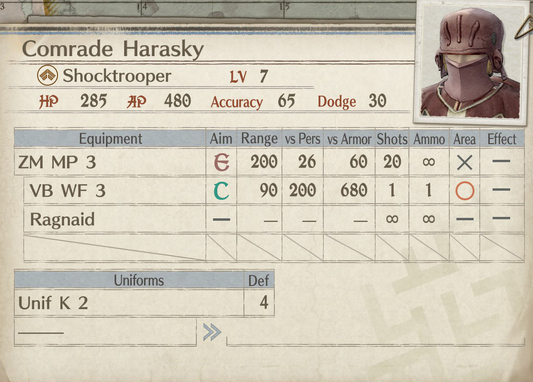 Has 20 total defense.
Location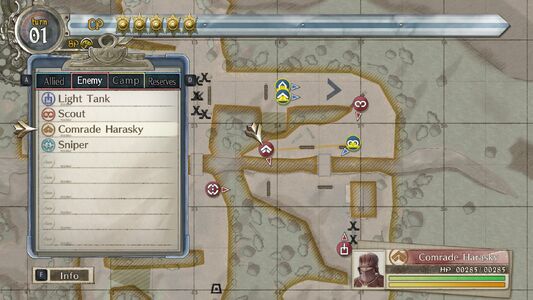 Reward
Defeating him rewards the player with a ZM MP 3(e), a low-level Imperial Machine Gun with the range almost halved compared to his own ZM MP 3, but much higher vs Pers damage and slightly improved accuracy.
Like almost all captured Imperial Machine Guns, it trades range and accuracy for greater vs Pers hitting power.
The Shocktrooper Ace Yümad the Blade in Normal Skirmish 6 shares Harasky's weapon drop, despite that he is technically standing in for Toma the Magus on that map.
| Equipment | Aim | Range | vs Pers | vs Armor | Shots | Ammo | Area | Effect |
| --- | --- | --- | --- | --- | --- | --- | --- | --- |
| ZM MP 3(e) | D | 120 | 38 | 53 | 20 | ∞ | X | - |
Community content is available under
CC-BY-SA
unless otherwise noted.