Colonel Hale (ハル大佐, Haru taisa?) is an Ultimate Tank Ace found in Valkyria Chronicles 4. He is found towards the end of the final Challenge Skirmish, and is the last Ace in the base game.
Gameplay
Hale commands a "version 3" Ultimate Tank with significantly upgraded health and slightly more AP, but oddly also slightly downgraded Body Def, and is parked up in the final area before Blitzkrieg on the Canal's base flag, off to the left side of the map. His tank is guarding the "safe entry" to the base flag area for tanks (the left side is guarded by a phalanx of Snipers behind sandbags rather than two Anti-Tank Cannons and some anti-tank Mines on the right).
Given the tight time limit of just five turns to complete the entire mission, deviating from the path to the goal to get behind him with the Hafen is a somewhat risky endeavour, more so because there is a Heavy Anti-Tank Cannon guarding him. It is far easier to capture the base flag directly below him on the Command Mode map and deploy either a Grenadier with an anti-tank mortar, or a Sniper with a Gautt R anti-tank rifle. In the latter case, moving all the way to the left of the base flag area allows the Sniper to fire at the top of his radiator, and one shot with the Gautt R will destroy the game's final Ace.
Stats and equipment
Location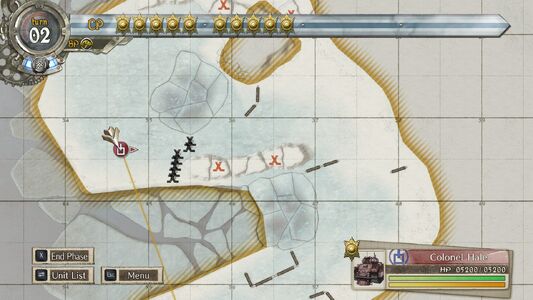 Reward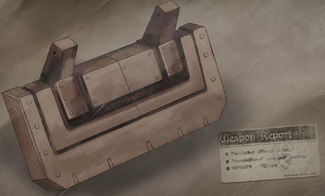 Defeating him rewards the player with the Tank Upgrade "Reinforced Frame" for the Cactus, a fairly hefty 2x2 Part that offers +450 Body HP. This can prove useful if the Cactus is facing Anti-Tank Cannons, though the Cactus more normally benefits from Capacity and AP upgrades. It does neatly fit into the space left over with the first two Capacity upgrade Parts fitted.
| Equipment | Part size | Effect |
| --- | --- | --- |
| Reinforced Frame (Cactus) | 2x2 | Body HP +450 |
Community content is available under
CC-BY-SA
unless otherwise noted.