Chienö the Raider

The Hafen sights up Chienö the Raider.
Information
Affiliation
East Europan Imperial Alliance
Weapon Drop
ZM MP 2(e)
Voice Acting
Japanese
Not voiced
English
Not voiced
Chienö the Raider (進撃のチノ, Shingeki no Chino?) is a Shocktrooper Ace found in Valkyria Chronicles 4.. He appears in Normal Skirmish 5: Snowy Mountain Trail, and is more or less a copy of the Shocktrooper Ace Roaring Chanitz.
Gameplay
Chienö is located just above the rail tunnel entrance on the right-hand side of the enemy base flag area as viewed in Command Mode. Though he is seven levels higher than Chanitz, he has slightly lower health, the same Dodge rating, very slightly increased accuracy, and the next version of Imperial Shocktrooper body armor.
There is not really any fancy technique to killing Chienö since he has his back to a wall: the main issue is dealing with the formidable force protecting the Imperial base flag, after which he can be "turned" through the use of two Scouts, targeted with Grenadier Mortar or Sniper fire from the bridge, or attacked with the Ship order "Bombardment."
Since he wields a duplicate weapon, killing him is not actually necessary to getting the "Excellence in Armament" Medal if Roaring Chanitz has already been defeated.
Stats and equipment
Has 15 total defense.
Location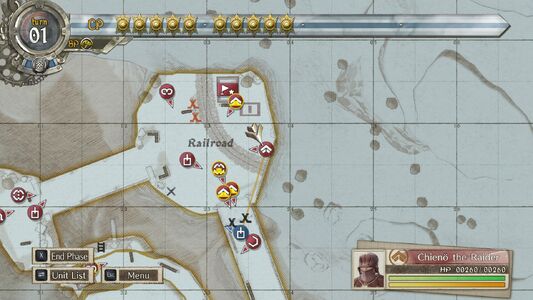 Reward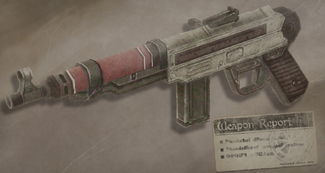 Defeating him rewards the player with a ZM MP 2(e), a low-level Imperial Machine Gun with the range halved compared to his own ZM MP 2, but almost double the vs Pers damage and slightly improved accuracy.
Like almost all captured Imperial Machine Guns, it trades range and accuracy for greater vs Pers hitting power.
The Shocktrooper Ace Roaring Chanitz in the Squad Story A Prayer for the Broken shares Chienö's weapon drop, meaning the player can have two of these weapons in stock
| Equipment | Aim | Range | vs Pers | vs Armor | Shots | Ammo | Area | Effect |
| --- | --- | --- | --- | --- | --- | --- | --- | --- |
| ZM MP 2(e) | D | 100 | 36 | 50 | 20 | ∞ | X | - |
Community content is available under
CC-BY-SA
unless otherwise noted.