Sky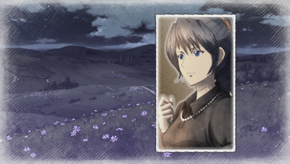 Story
One day in October, after the armistice between Gallia and the Empire had become a certainty, Kurt and the others were performing funeral rites for Gusurg. Gusurg's sister, whom Kurt had contacted for this occasion, also attended. Kurt and the others attempted to answer all of her questions openly, and willingly described who Gusurg had been to them. The only thing they didn't mention was the fact that Gusurg had betrayed them -- that is, until her relentless questions forced Kurt into telling her the whole truth. Upon hearing Kurt's confession, she presented him with a letter Gusurg had written to her. Kurt read the letter and felt a deep pain pierce his heart.
Community content is available under
CC-BY-SA
unless otherwise noted.