Captain Terror (テラー隊長, Terā taichō?) is a Lancer Elite Ace found in Valkyria Chronicles 4. He guards one of the Imperial camps during the battle mission Capturing the Capital.
Gameplay
Captain Terror lurks beside some crates near the top-left base. The principle issue in dealing with him, aside from the fact that Chiara frequently respawns at this base, is the two Grenadiers located on a roof in the right-angled alley above and to the left of him.
The best way to deal with them is to have a Sniper use the context prompt to climb the nearby church belltower, though advancing the Hafen into the square give the option of using the Ship Order "Bombardment" on them instead.
Since Captain Terror is a Lancer, he will not turn to follow enemies who are close to him: once his defenders are defeated, it is a simple matter of walking behind him and shooting him.
Stats and equipment
Has 30 total defense.
Location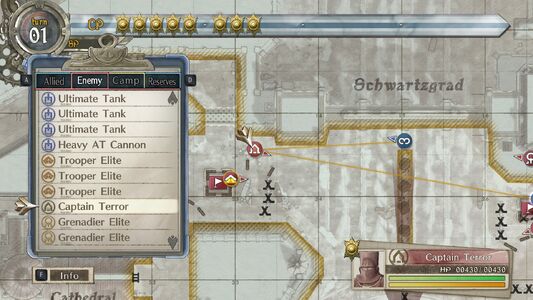 Reward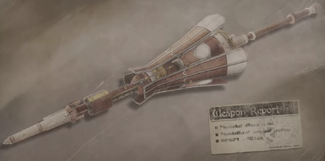 Defeating him rewards the player with a VB PL 4(e), an Imperial Lance shorter-ranged, but more accurate and powerful than the basic VB PL 4 he uses himself.
It is far more powerful than anything the player has access to at this stage in the campaign, though it must be used at very close range to deal with its low accuracy.
| Equipment | Aim | Range | vs Pers | vs Armor | Shots | Ammo | Area | Effect |
| --- | --- | --- | --- | --- | --- | --- | --- | --- |
| VB PL 4(e) | D | 430 | 200 | 1700 | 1 | 3 | X | - |
Trivia
From the Japanese, his name is probably supposed to be "Captain Teller." Most likely the choice of translation is deliberate.
The VB PL 4(e) weapon model is also used for the VB PL 5(e) and VB PL 6(e).
Community content is available under
CC-BY-SA
unless otherwise noted.