Aizer the Bulwark (重装アイザー, Jūsō aizā?) is a Lancer Paragon Ace found in Valkyria Chronicles 4. He commands a position on top of a building in Hard Skirmish 2: Out of the Box.
Gameplay
Aizer is located on the same tall building to the bottom-left of the map as viewed in Command Mode where Christel Ward was found in Chapter 5: Behind the Frontlines. He is visible from the start of the mission. There is no way to get close to him, as there is no direct access to the roof he is on.
Aizer's weapon, though it says it is a VB PL 5, is actually easily the most unique Lance in the game. Rather than having very low accuracy and high hitting power, it is more accurate than any Imperial Sniper Rifle used by a standard enemy, extremely long-ranged, and focused on anti-personnel hitting power.
Aizer's dodge rating is fairly low, so simply sniping him from the starting area is eminently possible. Another option is to clear a path to the lowermost enemy camp and then climb the nearby ladder, killing the enemy Grenadier here and then attacking him from the side.
As a Lancer his Blast Suit makes him virtually immune to fire from Grenadiers, and his 500 HP means it will take multiple uses of the Ship Order Bombardment to take him out even if it is fully upgraded.
Stats and equipment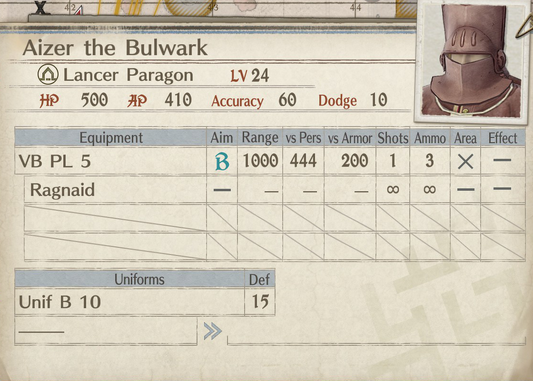 Has 35 total defense.
Location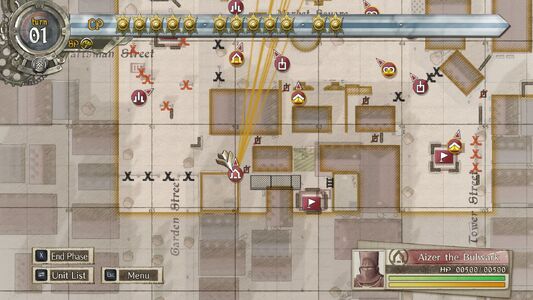 Reward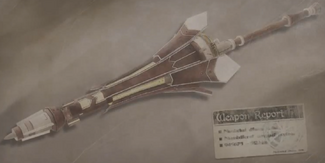 Defeating him rewards the player with a VB PL 2B(e), a special Anti-infantry mortar-lance with a status effect: the icon is AP down, but the effect is called AP Use Up, and what it actually does is increase the rate at which Action Points drain while a unit is moving. This is a little strange since Aizer himself does not use a Mortar-Lance at all, instead having his bizarre sniper-Lance.
Given there is no Federation equivalent of the Ace drop status effect mortar-lances, it is difficult to directly compare, but it is shorter-ranged than the Lancaar-SH, while having more power than any Lancaar-SH variant.
| Equipment | Aim | Range | vs Pers | vs Armor | Shots | Ammo | Area | Effect |
| --- | --- | --- | --- | --- | --- | --- | --- | --- |
| VB PL 2B(e) | B | 150 | 680 | 300 | 1 | 3 | O | |
Trivia
His weapon's damage rating of 444 relates to the fact that in Japanese, along with other languages related to Chinese, the word "four" sometimes shares a pronunciation with the word for "death" (both are pronounced shi). Japanese hospitals often do not have a fourth floor for this reason.
The model for the VB PL 2B(e) is also used for the VB PL 3B(e).
Community content is available under
CC-BY-SA
unless otherwise noted.